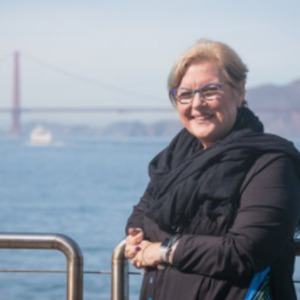 Rosa Lee Harden's Hosted Episodes
Rosa Lee Harden has hosted 15 Episodes.
December 12th, 2021

What would you change if you could? John the Baptist is a voice crying in the wilderness, but what does his cry call us to? Imagine a new world in this sermon by Rev. Eric Barreto.

December 5th, 2021

If we want to see a different world, we have to see ourselves differently. We think change can only happen in the room where it happens, but, as Rev. Kevin Wright reminds us, that's not how God works.

November 28th, 2021

It's the start of a new year in the Christian calendar! What does Jesus tell us to do? Make resolutions? Host celebrations? "Be on guard," he says. Listen to this Advent 1 sermon by Rev. Canon Rosa Lee Harden.

June 4th, 2021

How well do you know your neighbors? What was your community like 10 years ago? 20 years? David Bailey, Patton Dodd, and Joanna Taft reflect on how knowing our communities' stories enable us to imagine new futures together.

March 12th, 2021

Can a neighborhood be immoral? In order to heal the divisions within our nation, must we first look at our communities' subdivisions? Hear remarks by Dr. Willie James Jennings, Associate Professor of Systematic Theology and Africana Studies at Yale Divinity School.

March 5th, 2021

The Church is an economic entity whether it wants to be or not. How can it leverage that power for justice and equity? This episode features Bill Bynum, Patrick Duggan, Greg Edwards, Bonny Mollenbrock, and Cort Gross.

February 26th, 2021

David Bailey, Joanna Taft, and Marlon Hall discuss how communities can use story to subvert gentrification and contribute to the flourishing of all its members.

February 19th, 2021

What does it mean for the church to be an entrepreneur? Princeton Theological Seminary's Kenda Creasy Dean, moderates a conversation with Elan Babchuck of Glean Network, Mark DeYmaz of Mosaic Church, Kit Evans-Ford of Argrow's House, and Kathleen McShane of Los Altos United Methodist Church.

February 12th, 2021

Access Venture's Bryce Butler shares his experience trying to provide affordable housing in one Louisville neighborhood and the lessons he learned about impact investing for the good of a city.

January 18th, 2021

Community development and management guru Peter Block reflects on the imagination needed to meet this moment.